> 
 > 
AMC Theatres® US$ 10 Gift Card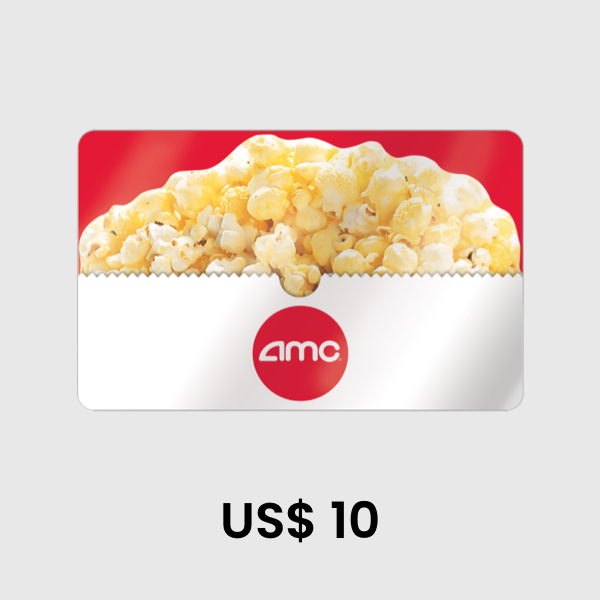 AMC Theatres® US$ 10 Gift Card
No returns and no refunds on gift cards.
• Send via Link share / Email

• This gift card does not expire
Redeem Online:
Click on the Redemption URL provided above.
Print or save the eGift Card page.
Go to amctheatres.com
At checkout, enter the Card Number and PIN.
Redeem In Theatre:
Click on the Redemption URL provided above.
Redeem in store by presenting the printed eGift Card page or showing on your mobile device.
No returns and no refunds on gift cards.
Card Will Not Function 5 Years After Activation. Funds Remain Available Call 1.800.255.0311 for Free Replacement Card
Usable up to balance only to buy goods or services online at amctheatres.com and at any box office or concession register at AMC Theatres; locations in the U.S. Physical Card will not function five years after card activation; online redemptions and balance inquiries will be unavailable. Funds remain available. Not usable to purchase gift cards. Not redeemable for cash unless required by law. Not a credit or debit card. Safeguard the card. It will not be replaced or replenished if used without authorization. If lost or stolen, replacement card with remaining value requires original proof of purchase. AMC Card Processing Services, Inc. is the card issuer and sole obligor to card owner. AMC CPS, Inc. may delegate its issuer obligations to an assignee, without recourse. If delegated, the assignee, and not AMC CPS, Inc., will be sole obligor to card owner. Purchase, use or acceptance of card constitutes acceptance of these terms. For balance or other customer service inquiries, including replacement of physical card, and AMC Theatre brands, visit any AMC theatre, log on to amctheatres.com or call 1.800.255.0311.